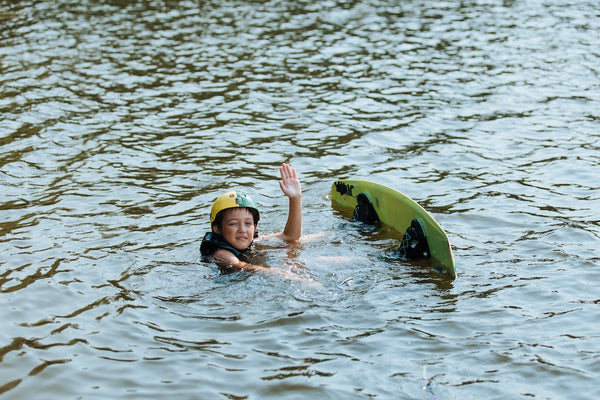 The Ultimate Guide to Wakeboarding: Tips & Tricks for First-Timers
The Ultimate Beginner's Guide to Wakeboarding
Wakeboarding is an exhilarating water sport that combines elements of surfing, snowboarding, and skateboarding. Whether you're new to the sport or looking to improve your skills, our beginner's guide to wakeboarding has you covered. Dive into this comprehensive guide and learn everything you need to know to get started, from choosing the right equipment to mastering essential wakeboarding techniques.
Choosing the Right Wakeboarding Equipment
Wakeboard: Selecting the right wakeboard for your skill level and body size is crucial. Look for beginner-friendly boards with a continuous rocker, which allows for smoother turns and a more forgiving ride. As you progress, you can explore boards with a three-stage rocker for increased pop and more advanced maneuvers.
Bindings: Comfort and support are essential when choosing bindings. Adjustable bindings are great for beginners, as they can accommodate a range of foot sizes and provide a secure fit. As you advance, consider investing in customized bindings for better performance.
Life Jacket: Safety comes first. Always wear a Coast Guard-approved life jacket designed for water sports, ensuring it fits snugly and comfortably.
Helmet (optional): Although not required, wearing a helmet can provide additional protection during falls, especially for those learning new tricks.
Basic Wakeboarding Techniques to Master
Getting Up on the Board: Start by floating on your back with your knees bent and the board in front of you. As the boat begins to pull, allow the board to naturally rise to the surface. Keep your arms straight and lean back slightly. When the board is on the surface, stand up gradually, keeping your weight centered and knees slightly bent.
Riding the Wake: To ride the wake, shift your weight to your back foot and turn the board in the direction you want to go. Keep your knees bent and maintain a low center of gravity. Practice moving back and forth across the wake to build confidence and control.
Turning: To turn, apply pressure to the edge of the board in the direction you want to go while keeping your weight centered. Start with gentle turns and progress to sharper ones as you become more comfortable.
Jumping the Wake: To jump the wake, approach it at a moderate speed, keeping your knees bent and weight centered. As you hit the wake, extend your legs and push off with your back foot, using the wake's upward force to lift you into the air. Keep your eyes on the landing spot and bend your knees to absorb the impact.
Tips for Wakeboarding Success
Find a suitable location: A calm, flat body of water free from obstacles is ideal for wakeboarding. Lakes and inlets with minimal boat traffic provide the best conditions.
Choose the right boat speed: A boat speed of 18-22 mph is recommended for beginners. Faster speeds can make it more difficult to maintain control, while slower speeds may not generate enough force to lift the wakeboarder.
Communicate with your boat driver: Establish clear communication signals with your boat driver to ensure a safe and enjoyable experience.
Take lessons: If you're struggling to grasp the basics, consider taking wakeboarding lessons from a certified instructor to help you progress more quickly.
Practice makes perfect: Like any sport, practice is key. The more time you spend on the water, the more confident and skilled you'll become.
Wakeboarding is a thrilling water sport that offers endless opportunities for growth and fun. By investing in the right equipment, mastering basic techniques, and following our tips, you'll be well on your way to conquering the waves and enjoying every moment on the water. As you gain experience, don't be afraid to challenge yourself and try new tricks – the possibilities are limitless. So, grab your board, hit the water, and unleash your inner wakeboarding superstar!