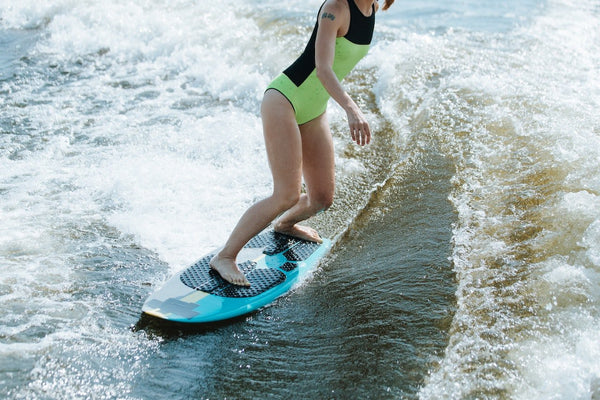 Improving Your Wakesurfing Technique: Advanced Tips and Tricks
Improving Your Wakesurfing Technique: Advanced Tips and Tricks
Wakesurfing is an exhilarating water sport that combines the thrill of surfing with the power of a boat's wake. As you progress in your wakesurfing journey, mastering advanced tricks and techniques can take your riding to the next level. In this blog post, we will share valuable tips and tricks to help experienced wakesurfers enhance their skills and achieve impressive maneuvers on the water.
Mastering Pumping: Pumping is a fundamental skill for generating speed and maintaining momentum without the assistance of the boat. To improve your pumping technique, focus on shifting your weight from the front foot to the back foot while using your legs to generate a fluid motion. Engage your core and practice timing your pumps with the rhythm of the wave for maximum efficiency and speed.
Perfecting Carves: Carving is essential for creating stylish turns and smooth transitions on the wave. To execute sharp, controlled carves, bend your knees, keep your weight centered, and initiate the turn from your hips and shoulders. Experiment with different foot positions and angles to find the sweet spot that offers optimal control and stability.
Progressive Edging: Mastering progressive edging allows you to generate more power and height during your jumps and tricks. Start with a gradual edge and gradually increase your angle as you approach the wake. This technique will help you build tension and unleash explosive energy when hitting the lip of the wave.
Advanced Tricks: a. Airs and Grabs: Once you have a solid foundation, experiment with catching air and adding grabs to your jumps. Try grabbing the board with your front hand, back hand, or even both hands for extra style points.
Shuvits and Spins: Challenge yourself by learning shuvits and spins. Practice spinning 180s, 360s, or even 540s, using your upper body and core to initiate the rotation while maintaining balance and control.
Lip Slides and Reverts: Take your wakesurfing to the next level with lip slides and reverts. Approach the wave's lip at an angle and slide along it with your board. Experiment with different angles, board pressures, and body positions to master these technical maneuvers.
Safety Considerations: While pushing your limits and attempting advanced tricks, it's crucial to prioritize safety. Always wear a properly fitting life vest, communicate with the boat's driver or spotter, and be aware of your surroundings. Progress at your own pace, gradually building up to more challenging tricks to minimize the risk of injury.
By incorporating these advanced tips and tricks into your wakesurfing repertoire, you can elevate your performance and expand your skill set on the water. Remember, practice makes perfect, so dedicate time to honing your technique and pushing your boundaries. Stay focused, stay safe, and enjoy the thrilling world of wakesurfing as you continue to progress and achieve new milestones in your journey as an experienced wakesurfer.